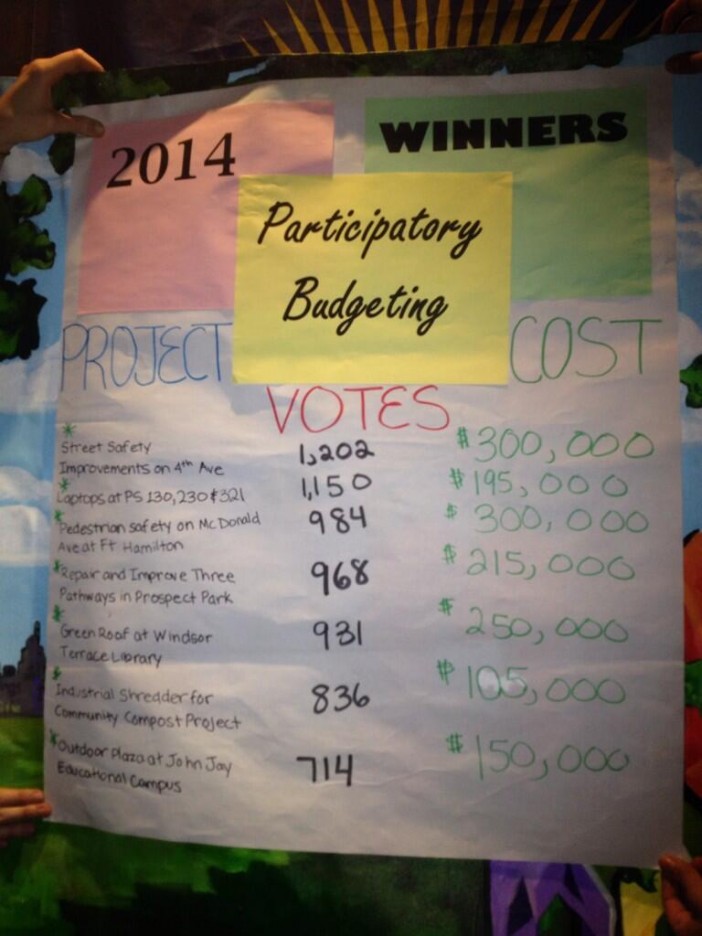 We'll soon see some upgrades along 4th Avenue and in front of John Jay, as those were two of seven winning projects in the 2014 Participatory Budgeting process in Councilmember Brad Lander's District 39.
After months of work from volunteers who pitched projects and met in groups to develop plans for specific, achievable goals, 2,200 members of the community came out for voting last week and over the weekend to pick their favorites. The results came in last night that seven projects will be funded a total of $1,515,000, well beyond the $1M of discretionary funds promised for this process.
"This year, once the voting was in, I made a decision to expand the amount of discretionary funding available to support winning projects from $1 million to $1.5 million," says Councilmember Lander. "I look forward to working with community members to continue pushing for some of the other projects that didn't win enough votes for funding, but are clearly needed."
One winning project that will affect our local landscape is the outdoor plaza at the John Jay campus, which was spearheaded by a group of parents from the PTAs and PAs of the schools there, and which will beautify the block of 7th Avenue between 4th and 5th Streets by adding benches, bike racks, and plantings, creating a new public space that all neighbors can use.
"Many, many thanks to everyone in District 39 that supported our campus community!" the group said on their Facebook page.
The most votes went to a plan that aims to help safety, reduce speeds, and increase green space along 4th Avenue between 8th and 18th Streets with raised medians, plantings, benches and more.
"I think the community will benefit greatly from these changes, with traffic calming and places to sit," said Joshua Mack in a video promoting the project.
Though it may take some time before we see these projects completed, Lander assures us that these, along with the 13 projects funded in the first two years of Participatory Budgeting in his district, will happen. He's committed to working with city agencies to ensure that community stakeholders stay involved as the projects are implemented, and you can track the updates online here.
"We've got a great set of winning projects, that truly reflect a shared commitment to our public schools, parks, streets, libraries, and environment," he says. "I love the list, and will be proud to put these projects in the budget later this spring."
The winning 2014 projects are:
Street Safety Improvements on 4th Ave, 8-18th Sts, $300,000, 1202 votes: Improve safety, reduce speeds, and green 4th Ave between 8-18th Streets with raised medians, plantings, benches and more.
Laptops at PS 130, 230 & 321, $195,000, 1150 votes: Enable tech access across diverse communities with laptop carts for 3rd-5th graders at PS 130, 321, and PS 230′s ELL adult program.
Pedestrian Safety on McDonald Ave at Ft Hamilton Pkwy, $300,000, 984 votes: Expanded sidewalks will shorten crossing distances, reduce speeding, and improve safety for pedestrians.
Repair and Improve Three Pathways in Prospect Park, $215,000, 968 votes: Repair and resurface pathways that flood and are covered in mud — Endale Arch, East side of Lake, and Villa parking lot.
Green Roof at Windsor Terrace Library, $250,000, 931 votes: The green roof will reduce energy use, limit stormwater run-off, improve air quality, add wildlife habitat, and beautify.
Industrial Shredder for Community Compost Project, $105,000, 836 votes: Serious shredder and shed to enhance Gowanus composting center at the Salt Lot; will process food scraps, leaves, trees, lunch trays.
Outdoor Plaza at John Jay Educational Campus, $150,000, 714 votes: Beautify 5-school building's exterior with benches and plantings, making sidewalk more welcoming for the whole community.
Photo via Brad Lander