This page was created by the generous support of BASIS Independent Brooklyn - a STEM based new private school in Red Hook, Brooklyn.
Resources:
Park Slope and South Slope are in School District 15.
Find out which public school you are zoned for
Register your child of pre-kindergarten or kindergarten
Everything about the Gifted & Talented Programs
Review from Inside Schools - District 15
Special needs:
The Brooklyn Special Kids yahoo group is fantastic. Join them on Facebook.
Special Sprouts is here in the neighborhood and they are really good. 

Pre-School Special Education services are available to children ages 3-5 who are found eligible through the Committee on Preschool Special Education (CPSE). Referrals for evaluation must be made in writing - check out the Department of Education resources.

 
Local Public Schools
MS 51 William Alexander (6-8)
MS 88 Park Slope Educational Complex (6-8)
Millennium Brooklyn High School (9-12)
New Voices School of Academic and Creative Arts (6-8)
Park Slope Collegiate (6-12)
PS 10 Magnet School of Math, Science, and Design Technology (K-5)
PS 39 Henry Bristow (PK-5)
PS 107 John W. Kimball (K-5)
PS 118 Maurice Sendak School  (PK-1)
PS 124 Silas B. Dutcher (PK-5)
PS 133 William A. Butler (PK-5)
PS 154 The Windsor Terrace School (PK-5)
PS 172 Beacon School of Excellence (PK-5)
PS 295 (PK - 5)
PS 321 William Penn (PK-5)
Secondary School for Journalism (9-12)
Secondary School for Law (9-12)
Charter Schools
BUGS Brooklyn Urban Garden Charter School (6-8)
Hellenic Classical Charter School (K-8)
Private Schools
BASIS Independent Brooklyn (K-12)
Brooklyn Free School
Brooklyn Friends School
The Berkeley Carroll School
The Brooklyn Waldorf School
Cortelyou Academy
Hannah Senesh Community Day School
The Packer Collegiate Institute
Poly Prep
Saint Ann's School
St. Joseph the Worker Catholic Academy
St. Saviour High School
Local Preschools
Beansprouts
Brooklyn Free Space
Chai Tots Preschool
Chickpeas Child Care Center
Congregation Beth Elohim Early Childhood Center
Eladia's Kids
Giocare Playschool
Greenwood Heights Playgroup
Helen Owen Carey Child Development Center
Huggs Day School
Just Wee Two
KinderHaus German Immersion Day School
Mozarts and Einsteins
Old First Nursery School
Paper Moon Playgroup
Park Slope Schoolhouse
Parker's Place
Prospect Kids Academy
Sunflower Academy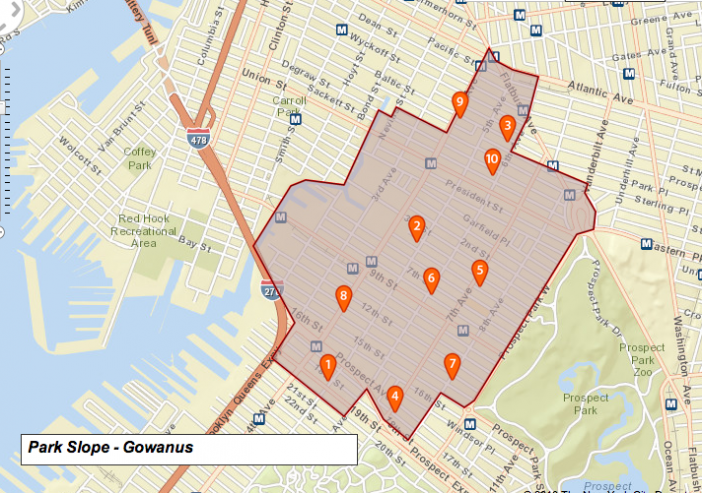 Latest School News: