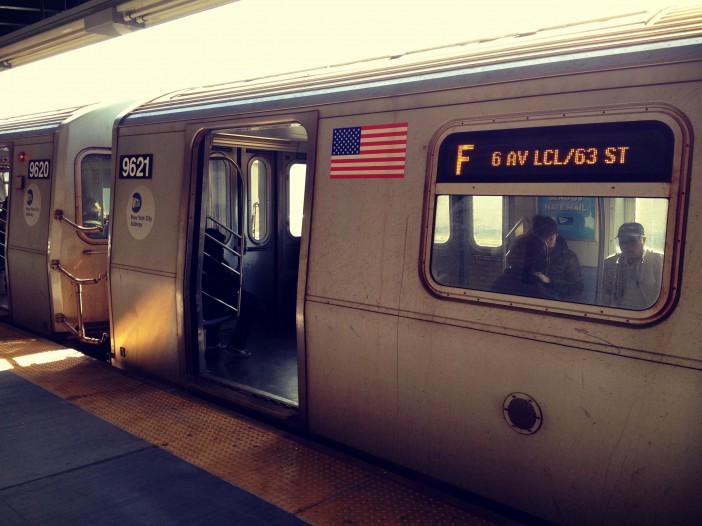 Some of the same subway service changes as last weekend repeat starting Friday night, including the F and G trains skipping some local stops, and the Q train being replaced by shuttle buses below Prospect Park. If you're looking to catch a ride on the subway this weekend, here's what to look out for along some local lines:
No 3 trains between Franklin Av and New Lots Av
Weekends, 6:30am to 6pm, Saturday and Sunday, until March 16
3 service operates between 148 St and Franklin Av, and via the 2 to/from Flatbush Av. 4 trains make local stops between Franklin Av and Utica Av. Shuttle buses make all stops between Utica Av and New Lots Av.
Queens-bound F and G trains skip Ft Hamilton Pkwy, 15 St-Prospect Park, and 4 Av-9 St
Weekends, 11:45pm Friday to 5am Monday, until March 17
For service to these stations, take the F or G to 7 Av or Smith-9 Sts and transfer to a Coney Island-bound F or Church Av-bound G. For service from these stations, take the F or G to 7 Av or Church Av and transfer to a Jamaica-bound F or Court Sq-bound G.
Astoria-bound N trains run via the D from Stillwell Av to 36 St
Weekend, 6:45am to 7pm, Saturday, March 15 and Sunday, March 16
Trains run express, stopping at Bay 50 St, Bay Pkwy, 62 St-New Utrecht Av, and 9 Av.
No Q trains between Prospect Park and Stillwell Avenue
Weekend, 10:30pm Friday, March 14 to 5am Monday, March 17
Q service operates north of Prospect Park. D, F, and N trains and free shuttle buses provide alternate service. See shuttle bus routes and stops here.
No R trains between Lower Manhattan and Downtown Brooklyn
All times until October 2014
No R service at City Hall, Cortlandt, Rector, Whitehall, Court Streets, and Jay Street-MetroTech. R service operates between Forest Hills-71st Avenue and Bay Ridge-95th Street. Trains run via the Q in both directions between Canal Street and DeKalb Avenue.
Additionally, look out for more changes further down the line on the 2, 3, 4, 5, F, and Q trains.
Sometimes scheduled changes get cancelled, so check MTA.info for the latest updates.