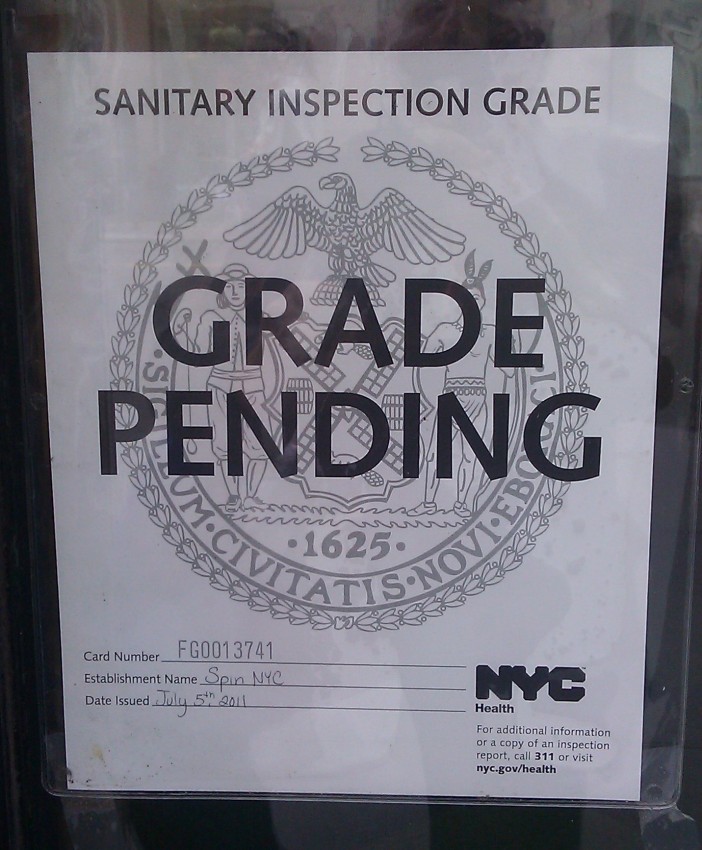 When you head out for a bite to eat in the neighborhood, does a restaurant's letter grade from the Department of Health factor in your decision on where to dine?
Neighbor Jason L. De Leon reached out to us recently about what he calls a "B outbreak" in the area, after having noticed that several well-regarded local restaurants have B inspection grades displayed in their windows.
"In the past couple of weeks we have noticed 'B' ratings popping at some of our favorite restaurants in the neighborhood, including Fonda, Stone Park Cafe, and Thistle Hill Tavern," he writes. "It is odd for us to think of such great places to eat with high reviews on Google, Yelp, and Urbanspoon to have a lowered inspection grade."
Stone Park Cafe's B grade came after an inspection in September that resulted in 17 violation points, including two "critical" violations — for cold food held at a temperature above 41ºF, and food that was "adulterated, contaminated, cross-contaminated, or not discarded in accordance with HACCP plan." But Josh Grinker, the executive chef at the restaurant, reminds diners not to put too much stock in the grades handed out by the DOH.
After Per Se, arguably best restaurant in New York City, received a C grade recently, Chef Josh wrote an opinion piece for CNN saying that though the letter grades are certainly a good policy, they're inherently flawed, and do not accurately indicate a restaurant's cleanliness or operational quality.
"The problems stem from too many points in the health code and too many interpretations by inspectors of those points," he writes. "With more than 1,000 points at an inspector's disposal (some of which have nothing to do with actual food), the violations game is completely open to the whims of the given inspector on the given day."
He adds that other things — like proactive sanitation efforts, food safety education, hiring processes, and the quality and sources of the food — aren't considered by the DOH in the letter grading, and that the process ends up focusing on small, less significant matters than serious issues of public health that it should be considering.
We're left wondering how much letter grades impact your decisions on where to eat, and how much those decisions can hurt a business that may not actually be posing any health risks to its patrons. What's your take?

 Loading ...
Photo by Mike Licht