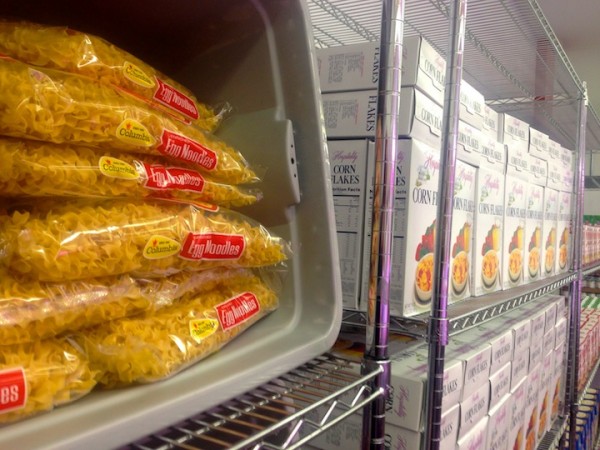 We count ourselves lucky all the time to have an organization like CAMBA in our community, which is why we have partnered with them this year for the CAMBA Healthy Way 5K fundraiser. We hope you will join us in supporting them, and we'd like to tell you a bit more about what CAMBA is doing to help support neighbors throughout Brooklyn.
Just across Prospect Park, CAMBA's Beyond Hunger Emergency Food Pantry is helping to feed 3,400 Brooklynites every month. The pantry, which first opened, strives to provide a wholesome and substantial diet for both their own clients and those referred by local churches and other organizations.
Unique about the Beyond Hunger Emergency Food Pantry is that CAMBA allows clients to choose three days' worth of food as they would in a supermarket, picking the ideal items for themselves and their families. Oh, and that they've been growing healthy produce with their hydroponic garden since last year!
Every day, pantry coordinator Lucila Santana, assistant Ralph Samaroosingh, and others work hard not only to provide clients with food, but to offer crucial services like nutritional education, public benefit screening and application assistance, and referrals to health providers, money management, and social service programs. And besides the everyday, there are the holidays.
CAMBA helps empower clients like Heidi, one of the hundreds of neighbors who received Thanksgiving groceries after our turkey drive last November, and get them back on their feet. At the time, former CAMBA shelter resident Heidi had recently moved into her first apartment, was about to start college classes, and was preparing to have friends and family over for a very special meal.
If you'd like to help CAMBA continue providing such stellar support to our neighbors (and help neighbors like Heidi continue having such wonderful holidays!), one fun way to do it is by signing up for the CAMBA Healthy Way 5k, scheduled for Sunday, May 4. You can register to participate here – but even if you are unable to attend the event, there are several other ways to help make it a success. Whichever way you choose, taking part in the Healthy Way 5k means you get to help others — and there's not much more lovable than that.