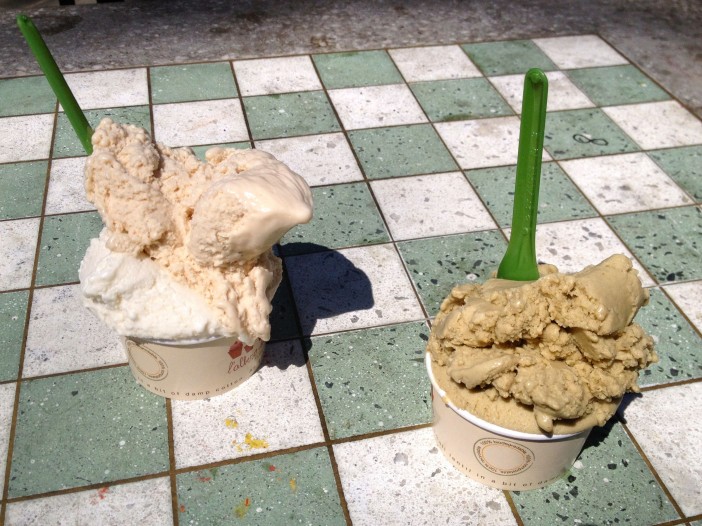 Flowers are in bloom and the weather is just starting to warm up, which can mean only one thing: It's frozen treats season.
So far in Park Slope, we've seen the return of popsicles, pop-up Italian ice shops, and the ice cream man. But what about those wonderful places that stay open and serve up cold desserts all year round?
One recent newcomer is L'Albero dei Gelati, which opened at 341 5th Avenue last July, and has been scooping up decadent gelato diagonally across the street from J.J. Byrne Playground every day since. In honor of their window being back open to the street, and their quiet, shady backyard also being back open, we stopped by to try out a couple of options that will be sure to please almost anyone with a sweet tooth out there.
Their regular gelato is, as we've noted before, rich, creamy, and decadent beyond compare. They often have at least one somewhat unusual flavor in a mix that can include up to about 18 different options — when we went by this week, we braved the flavor that featured truffles (the mushroom, not the chocolate). It was definitely funky, a flavor that will stick with your for a few hours, but still interesting (we'd probably just go for a taste next time, and not a whole scoop). One flavor we keep going back for, though, is the hazelnut, which is perfectly nutty and a little toasty — it would probably pair well with another scoop of something chocolate.
What a lot of neighbors may be interested to find here, though, is a vegan option that's nearly as satisfying as their regular gelato. The pistachio (not to be confused with their regular pistachio gelato, this one is stored in a separate freezer) is made with almond milk, and it's lactose free and gluten free. The portion appears a little smaller than the regular gelato (the vegan pistachio is pictured above on the right), though it is more dense, less airy. The other difference is the mouthfeel — while the vegan pistachio is certainly rich and tasty, it doesn't have the same smooth creaminess of their regular gelato. However, if you're not tasting them side by side like we were, you'll still really enjoy it, whether you're vegan or not.
The one thing that might keep you from eating either of these every single day (aside from the fact that yeah, you probably shouldn't eat gelato every single day) is the price — they start at $3.95 for the children's size and go up, so it can be a bit of a hit on the wallet. Still, when something is made very well and with great ingredients, it's worth an occasional indulgence.
L'Albero dei Gelati is located at 341 5th Avenue, . Open Tuesday-Thursday and Sunday 9am-9:30pm,  Friday-Saturday, 9am-10:30pm; closed Mondays.