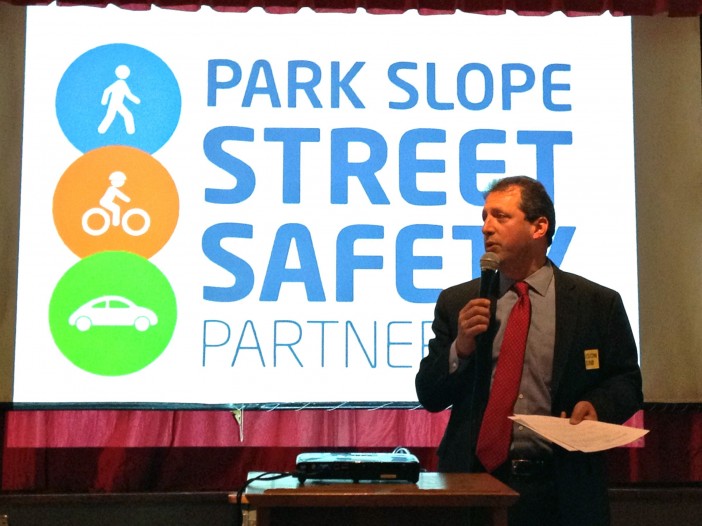 A forum for neighbors to ask representatives from several city agencies about the Mayor's Vision Zero Action Plan at times turned into something of a protest against the proposed New York Methodist Hospital expansion.
The meeting, held at PS 321 on Monday evening, attracted several dozen residents who listened to a presentation by the Department of Transportation about Vision Zero, but when the floor was opened to questions, around half of those were about Methodist.
"Vision Zero is a broad vision," said Marvin Ciporen of Preserve Park Slope, "and when someone has a broad vision, leaving out something as immense as the catastrophe that's about to happen at Methodist is short-sighted. Part of Vision Zero for this community has to be reducing the size of the hospital and demanding, before they start knocking down affordable housing and start building, that they come up with a plan to mitigate traffic."
Councilmember Brad Lander and representatives from the DOT who have been working with the community and Methodist to look at the impact the expansion may have on traffic all tried to ease concerns of those neighbors, with Lander noting a current survey Methodist is conducting with its staff that aims to reduce the number of employees who drive to the hospital for work.
"You have a set of folks up here who are committed to doing everything we can," Lander said. "If you look at the data, those are not actually the most dangerous, or highest accident, intersections in the neighborhood-"
"They will be!" someone called from the audience.
"And if they are," Lander continued, "then the Inspector and the entire community will focus on them. It's important that we focus on these things and move forward on all the things we've talked about… but I would ask that you respect the broad range of folks who have come out to discuss the much wider range of Vision Zero."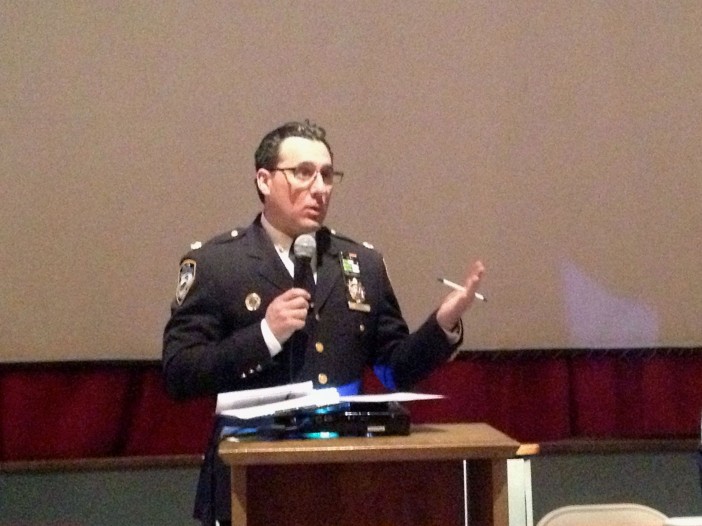 Still, many of those in attendance did have specific concerns they hoped this broad street safety plan would address, from lowering speed limits to better driver's ed instruction for teens. And the first question from the audience was a popular one, wondering why there isn't better enforcement of cyclists who may be breaking traffic laws.
"We do extensive enforcement," said Deputy Inspector Michael Ameri, Commanding Officer of the 78th Precinct (pictured above). "We do write summonses to cyclists. We do enforcement, but overall, it's a combination of enforcement, education, and engineering."
Chief Kenneth Corey of Patrol Borough Brooklyn South also pointed to education as something that is, and will be, playing a big role in creating safer streets for cyclists and those around them.
"Education is a big part of Vision Zero," he said. "It's about changing people's mindsets. It's about getting them to understand how their actions have further ramifications and repercussions.
"While many of our cyclists are safe, many are not," he continued. "And the same can be said for our pedestrians, and the same can be said for our motorists. So [education is]where we need to start."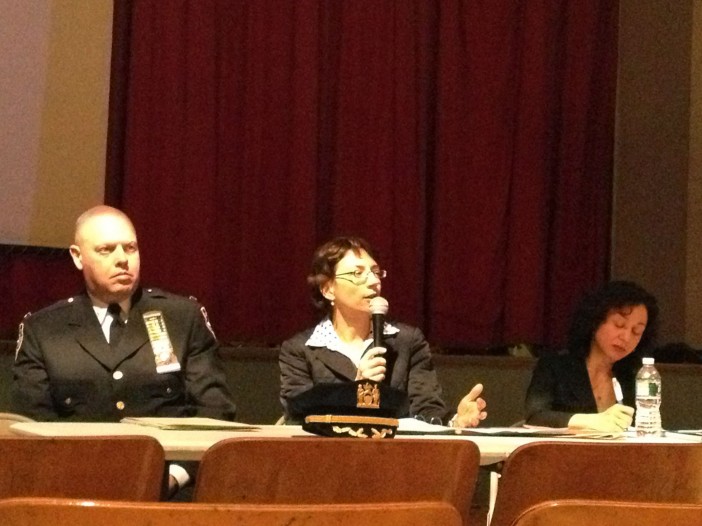 From left: Chief Corey, Polly Trottenberg, and Meera Joshi
Cyclists riding safely was just one bike-related concern. Another neighbor raised the point about keeping cyclists safe in bike lanes, and how this winter showed that the DOT may need to increase bike lane maintenance, saying he'd seen lanes — including the Prospect Park West bike lane — not cleared of snow and ice, and potholes in numerous places.
"This winter was absolutely one of the snowiest on record," said Polly Trottenberg, NYC DOT Commissioner, noting that employees worked around the clock to clear roads, bike lanes, and some pedestrian pathways. "We did not get to everything as quickly as we would have liked.
"We're doing our best but we could always do better," she added, stressing that people who notice poor conditions in bike lanes should call 311 to report them. "We are getting to potholes and things like that pretty quickly, usually within a day or two."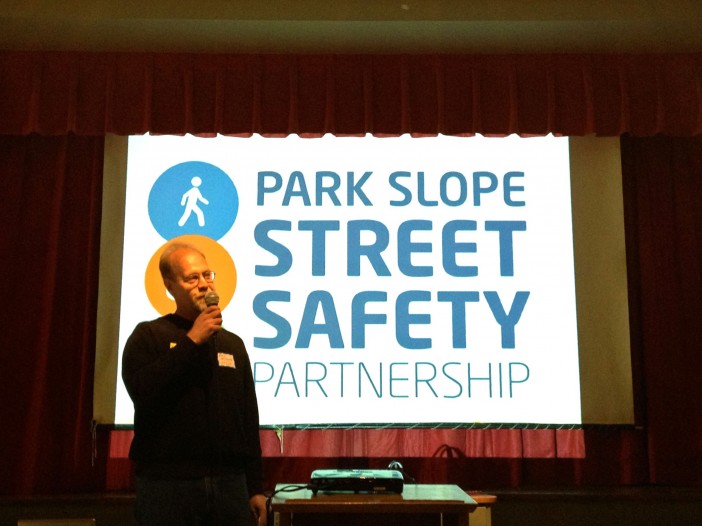 Some of the more heated questions involved taxis. One neighbor complained that dangerous driving among taxi and livery cab drivers has been going on for years with no effective solutions, and another said she doesn't feel comfortable suggesting that a driver slows down while they're en route.
Eric McClure, a member of the Park Slope Street Safety Partnership who hosted the meeting (pictured above), suggested the Taxi and Limousine Commission apply the same kind of letter grading system to drivers that the Department of Health applies to restaurants.
"That's something that has been thought about," said Meera Joshi, the recently appointed head of the TLC, who added that they do file a number of data points which could lead to such a system. "We would have to look at whether it's better to rate the base, or if it's better to rate the individual drivers, what would be more meaningful to the public."
"Somebody said to me, 'Oh that's a terrible idea — if you have 30 minutes to get to JFK, you're going to call the C-rated company,'" McClure joked.
Joshi said the grading idea is not part of the TLC's plan for Vision Zero, but noted that they're not bound by what's in that plan, and can do more if it's something that might work.
As for all the other ideas you may have that could become a part of Vision Zero, all the officials at the meeting stressed the importance of upcoming workshops, where there will be more practical time for concrete suggestions from the public. The first two are coming up soon: on Thursday, April 24 at 6:30pm at the Plymouth Church, Hillis Hall, 75 Hicks Street; and on Tuesday, April 29 at 6:30pm at the Brooklyn College Student Center, 2nd Floor, Campus Road and E 27th Street. For more information, check out the Vision Zero website.