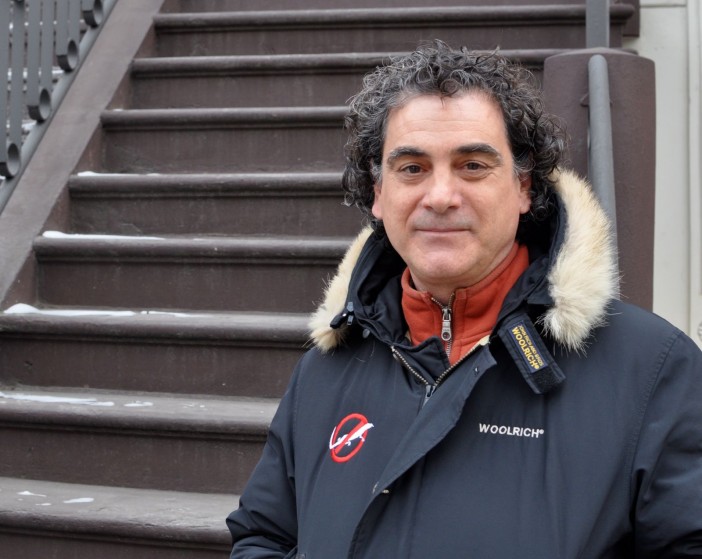 You may recognize neighbor A. Dean Bell from your child's school or baseball team, or as the person who helped change your shift when you called the Park Slope Food Coop recently. But later this week you'll have a chance to see some of what he does outside of his time in the neighborhood, when What Alice Found, the film he wrote and directed, screens at the Coop.
Though he's worked on a number of films and television shows — including a fun, 12-year run on ESPN's science-minded SportsFigures - What Alice Found is one of his most notable works, winning a Special Jury Award for Emotional Truth at the Sundance Film Festival. The New York Times describes it as a "a small, finely wrought drama" that follows a young woman as she flees her poor New Hampshire hometown to the sunshine promise of Florida, and the middle-aged couple that picks her up in their RV after she finds her tire slashed.
A Park Slope resident for three decades, Dean currently teaches screenwriting courses at his alma mater, SUNY Purchase, as well as classes at Long Island University, and continues to work on TV and film projects. In advance of the screening, we spoke with him about how he ended up in the neighborhood at a time when it wasn't as popular as it is now, what he recalls about the making of the film, and how showing it is not just a nice opportunity to share it with his neighbors, but a great way to fulfill some work credits, too.
Park Slope Stoop: You've been working on film since college — how did you decide that's what you wanted to do?
A. Dean Bell: I played in a rock'n'roll band with a bunch of older guys until my last year of high school. When they finally started drifting off to college, I had to make a decision about pursuing music or not. The answer was not. Somehow a life of working in late night smokey bars didn't appeal to me. About that time I made a short film in a film studies class. I got hooked late one Friday night, when I was editing it and I realized I wasn't out partying with my friends. I've been at it ever since.
What was one of the first films you saw that made you want to make your own?
I grew up watching silent films at the George Eastman House in Rochester, NY. But the first film that made me think, "I'd like to try that," was The Last Picture Show by Peter Bogdonovich. I saw it on my 12-inch black-and-white TV that I propped up on the end of my bed.
Your thesis film featured Melissa Leo, who's also continued working in film since then. What's one thing about your work that's the same now as it was when you made that film, and one thing that's different?
I guess I'm still writing about outsider characters, people looking for a place they fit in. And I still think Melissa is a terrific actor, so that hasn't changed. What's different is hopefully my thoughts and skills have matured a bit since then.
What Alice Found was released a little over 10 years ago — what are some things that are memorable about the production of the film?
Man, time flies. You have to watch out for that. I lived on the RV we shot in during shooting. I didn't want to come back to Brooklyn with the cast and crew every night. My strongest memory when I think back is driving the RV late at night by myself to the next location up the Garden State Parkway and thinking I was surely going to crash and die. I knew we had a great script and Judith Ivey's performance was just jumping out of the footage and the rest of the cast was nailing it. I just figured I would die before we could finish it.
Will you be at the screening at the Coop?
I am a fairly new Coop member and am actually banking an FTOP shift for presenting the film. I will be doing a Q&A after the screening from the second floor monitor desk so I can do my regular shift at the same time.
How long have you lived in Park Slope?
I've been in Park Slope for 30 years now. A bunch of us moved here after film school because it was cheap. I was new to urban life and this was kind of a half-way-house for me acclimating to the city. I spent a lot of time wandering the woods in Prospect Park. I totally fell in love with the place, and it was my little secret. But when Paul Auster moved in next door, I figured the secret was out. By the time it came to buying a home and raising a family, there was no where else in the world I wanted to be.
What's one of the neighborhood's hidden (or not-so-hidden) gems?
If you count it as Park Slope, Green-Wood Cemetery. I don't think people spend enough time exploring that place — it's amazing. I like to think of it as "my necropolis." If that doesn't count, then the Vale of Cashmere in the park. (Of course, now that I've mentioned it, it will be overrun by tourists!)
If you were to make a film about Park Slope, what title would you give it?
"The Squid and the Whale." Only kidding — but it is the quintessential Park Slope film. Maybe… "A $3 Million Brownstone Grows in Brooklyn."
As a professor, you must spend a fair bit of your time giving students advice. What's the best piece of advice you've ever gotten?
Write what you are. Not "write what you know," but write the stories that reflect who you genuinely are. You may or may not attract a large audience, but you will succeed because the work is genuine. You can't fake it.
On a side note, it's a thrill to have kids from Park Slope show up in my classes at SUNY Purchase.
What are you at work on now — anything people should keep an eye out for?
I've invested many years in a big budget project that doesn't look like it'll ever go anywhere, so I'm writing a much smaller story now. I'm also co-directing a long-term documentary called "3 Years 3 Months 3 Days" about a group of American Buddhists. But that won't be finished for well over a year.
What Alice Found will be showing at the Park Slope Food Coop, 782 Union Street, on Friday, March 7 at 7pm, and it's free and open to both members and non-members. The film is Rated R, so no one under 17 will be allowed unless accompanied by an adult.