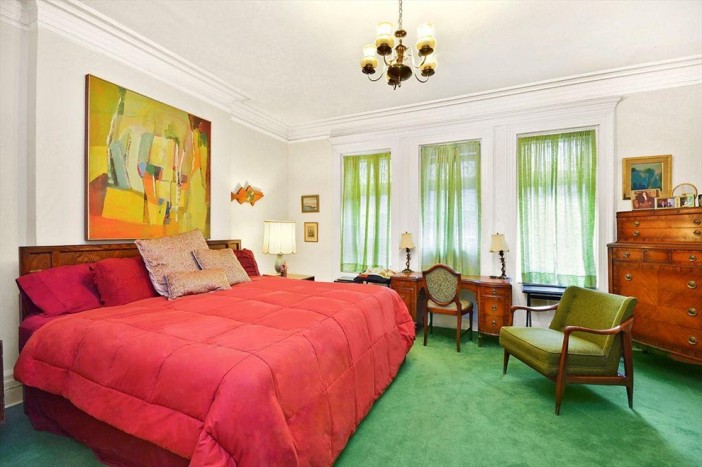 Open house season is back in swing in Park Slope, and there are several to check out this weekend if you're in the market for a new place to call home. From a unit in Chloë Sevigny's building to a fairly spacious junior one-bedroom, we've rounded up a few of them and have broken down the offerings below. What do you think?
41 Montgomery Place
Open House: Saturday, March 29, 1:30-3pm & Sunday, March 30, 11:30am-1pm
List Price: $3,700,000, via Citi Habitats
Details: A chance to own a 5-bed, 2.5-bath townhouse on a sweet little single-block street just off the park. It might need a little updating, in the event that green wall-to-wall carpeting (pictured above) isn't your thing, but the carpeting has apparently preserved the floors very well, as the owners told the Daily News recently when they put the home, originally purchased for $20,000 in 1966. The asking price has come down by $300k since it was first listed earlier this year.
9 Prospect Park West, #4B
Open House: Sunday, March 30, 1-3pm
List Price: $2,100,000, maintenance $1,999, via Douglas Elliman
Details: If you need a place to showcase your baby grand piano, this could be it — the listing notes one will fit in the living room, and has a pic to prove it. This is a 3-bed, 3-bath unit in a pretty hot co-op across from Prospect Park, though you'll have views of Manhattan. You may bump into neighbor Chloë Sevigny in the lobby, but not on your way outside to walk Fido — dogs are not allowed.
413 Bergen Street, #4
Open House: Sunday, March 30, 12-3pm
List Price: $1,665,000, common charges $1,632, via Anchor Associates
Details: A two-family home was transformed into a 4-unit condo, and now all four units are on the market, and Anchor has all four of the listings, which are all hosting open houses this weekend. This unit is the priciest of the bunch — the 2-bed, 2-bath space is the only one with a private roof deck (though the view is currently of the crane over Barclays, and, eventually, will be of a 32-story residential tower).
11 Sterling Place, #5G
Open House: Sunday, March 30, 1-2:30pm
List Price: $999,000, common charges $401, via Aguayo & Huebener Realty
Details: Another listing that promises a private roof deck, this is a 2-bed, 1-bath condo, though the second bedroom is currently a custom-designed office space. The kitchen and bathroom are pretty new, there's a washer/dryer in the unit, and pets are allowed.
951 President Street, #1F
Open House: Sunday, March 30, 1-2pm
List Price: $499,000, maintenance $630, via Douglas Elliman
Details: This 1-bed, 1-bath co-op has some pretty nice (and handsome) storage space with those wood cabinets in the living room. The bathroom was recently updated, and though there appear to be some newer appliances in the kitchen, the cabinetry could use a makeover. There's a shared roof deck, and the building is pet-friendly.
305 8th Avenue, #3D
Open House: Sunday, March 30, 1-2:30pm
List Price: $310,000, maintenance $717, via owner
Details: This co-op apartment is a junior one-bedroom, though that bedroom does have a door and a window, so it kind of strikes us as a true one-bedroom. Still, it's not a huge space, but there's storage and a bike room available in the basement, and a shared garden courtyard in the back.
Photo via Citi Habitats