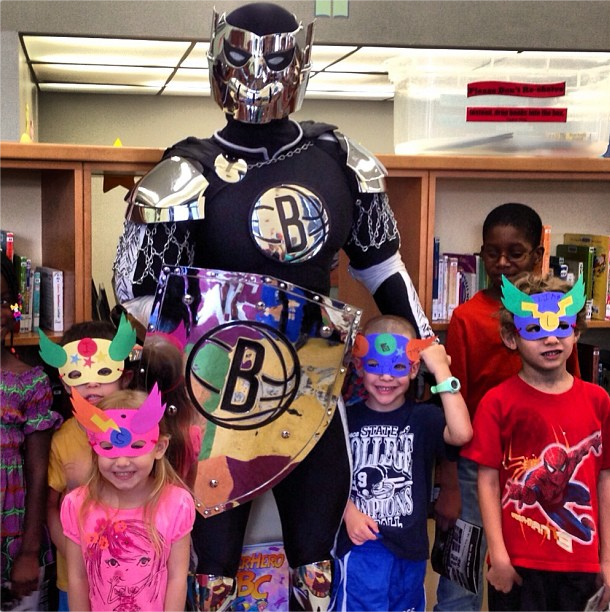 Looking for some fun events to enjoy with the kids this week? Give back to the community by volunteering to spruce up Prospect Park, meet the Brooklyn Knight and hear some superhero stories, jam at a family-friendly bluegrass concert, and more good stuff is coming up in the neighborhood. Details on those below:
Superhero Storytime
When: Wednesday, April 9, 3:30pm
Where: Central Library, Youth Wing, 10 Grand Army Plaza
What: Meet the Nets mascot, the Brooklyn Knight, take your photo with him, hear some stories, and receive a special surprise gift. Recommended for ages 5 and up.
How much: Free!
Story Craft
When: Thursday, April 10, 3:30pm
Where: Pacific Library, 25 4th Avenue
What: Kids up to age 5 are welcome to hear a story, then make a craft.
How much: Free!
Explore & Create: Arts And Crafts For Kids
When: Friday, April 11, 4pm
Where: Park Slope Library, 431 6th Avenue
What: A weekly, free drop-in program where kids can roll up their sleeves and explore their artistic side. This week's theme is superheroes!
How much: Free!
Meet The Author Of A Cast Is The Perfect Accessory
When: Saturday, April 12, 2pm
Where: Barnes & Noble, 267 7th Avenue
What: Meet the author of the second book in the And Other Lessons I've Learned series, and get your books signed.
How much: Free!
History In Your Hands: Spring Sprouts
When: Saturdays & Sundays from 2-4pm through April 26
Where: Lefferts Historic House, Prospect Park
What: Kids can help rotate and sift compost, then spread it in the plot to enrich the soil for the potato crop. Then they can make a small pot out of newspaper, fill it with soil, and plant a seed in it to take home!
How much: $3 suggested donation
Sing Along With Miss Amy
When: Sunday, April 13, 10am
Where: Two Moon Art House & Cafe, 315 4th Avenue
What: Playing original and well-known songs on guitar, ukulele, and percussive things, singing stories with puppets and bubbles, Amy brings her quirky style to the sing along arena.
How much: $7
Hop Tot Music Fest: Astrograss & Little Miss Ann With Suzi Shelton
When: Sunday, April 13, 11am
What: Rock to the bluegrass sounds of Astrograss at a concert that starts with a special appearance by Chicago's Little Miss Ann and Brooklyn fave Suzi Shelton. Plus, enjoy free crafts, face painting, and giveaways.
How much: $10 in advance, $15 at the door, non-walkers free. Get advance tickets for $8 through Thursday using the code FIDDLE.
Junior Volunteer Corps
When: Sunday, April 13, 1:30-3:30pm
Where: Parkside & Ocean Avenue entrance of Prospect Park
What: Families and elementary-school-aged community groups are invited to join the park for spring cleaning! Children will learn the importance of giving back to the community while making a meaningful difference in the park.
How much: Free, please register in advance here.
Photo via thebrooklynknight