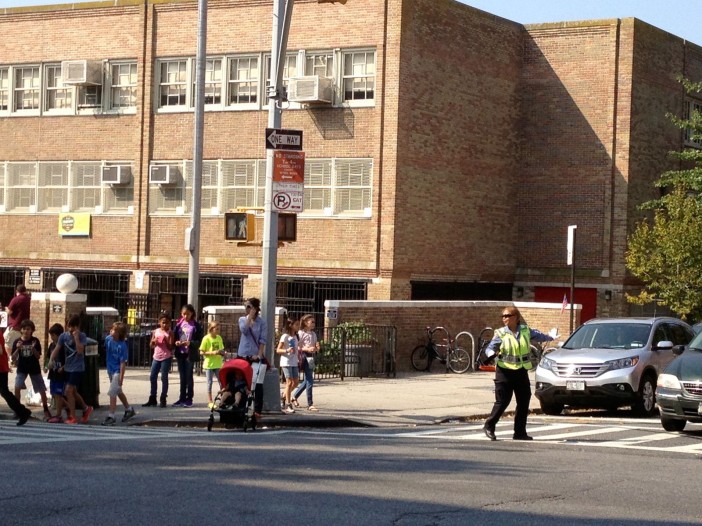 Making sure crosswalks, particularly around schools, are safe is just one part of Mayor de Blasio's Vision Zero plan to increase pedestrian safety, and it looks like it'll be the next focus of police in our 78th Precinct.
After the positive reaction by most to their "failure to yield" sting, where officers issued summonses to drivers who didn't give the right of way to pedestrians in crosswalks, local cops will now be taking a closer look at crossing guards in our area, to make sure they're where they need to be to keep kids safe. According to the Brooklyn Paper, they'll also be checking on the routes students are walking most, and will change the crossing guard stations if needed.
But is that enough? At this week's hearing on Vision Zero, NYPD Transportation Bureau Chief Thomas Chan acknowledged there are roughly 200 positions for crossing guards across the city that haven't yet been filled. District 44 Councilmember David Greenfield is now hoping to expedite the hiring process, putting more crossing guards where Brooklyn needs them most.
Hiring crossing guards may prove challenging because of the pay (normally $9-12/hour) and schedule (five hours with a break between shifts), postulates Greenfield's camp — but the Councilmember is pushing to secure funding for advertisements and maximum wages so as to make as many immediate hires as possible.
"The mayor's Vision Zero plan contains many great and ambitious ideas, many of which will take time to implement," Greenfield said in a statement. "Hiring more crossing guards is a great first step that we can immediately take to help end senseless and preventable deaths on our streets."
In a neighborhood with a lot of schools, how do you think we're faring for crossing guards? Are there any intersections you've noticed that don't have them, but should?