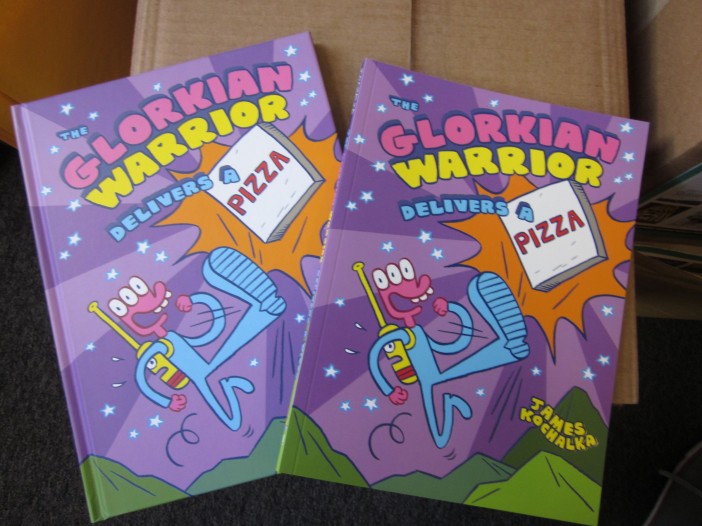 Looking for some fun events to enjoy with the kids this week? A chance to meet a comics superstar, poetry-inspired crafts, a school fundraiser with tons of music (and brunch!), and more good stuff is coming up in the neighborhood. Details on those below, and for more of what's coming up in the area, or to add Park Slope events of your own, check out our new calendar.
Disco Time With Yoni
When: Wednesday, April 2, 10:30am
Where: Park Slope Library, 431 6th Avenue
What: Yoni the Puppet leads an interactive storytime with a Hebrew and English music medley.
How much: Free, but tickets required (one per family), so arrive early to get yours.
Explore & Create: Arts And Crafts For Kids
When: Friday, April 4, 4pm
Where: Park Slope Library, 431 6th Avenue
What: A weekly, free drop-in program where kids can roll up their sleeves and explore their artistic side. This week's theme celebrates National Poetry Month!
How much: Free!
James Kochalka Book Release Party
When: Friday, April 4, 7pm
Where: Bergen Street Comics, 470 Bergen Street
What: The kids comic superstar behind neighborhood favorites Dragon Puncher and Johnny Boo will be in attendance for the launch of his hilarious new book, The Glorkian Warrior Delivers A Pizza. Meet one of comics funniest creators in all his celebratory glory!
How much: Free!
Opening Day
When: Saturday, April 5, 10am
Where: Prospect Park
What: Festivities begin at 10am with the Opening Day Parade, in which Little Leaguers meet at 7th Avenue and Carroll Street, march down 7th Ave to 9th St, then up to the Prospect Park Bandshell to throw the first pitch of the season. Stick around Prospect Park to volunteer, garden, or enjoy other scheduled family-friendly activities.
How much: Free!
Brooklyn Boogie Brunch
When: Saturday, April 5, 12-4pm
Where: Littlefield, 622 Degraw Street
What: A family event that will keep both kids and parents entertained with music for adults to dance to, music performed by local kids, music about unusual animals performed on unusual instruments, Brazilian drumming, and a set by Captain Kirk Douglas and Mark Kelley of The Roots. Plus, there's brunch! All proceeds benefit PS 295.
How much: $12 adults, $8 kids 2-17, $5 for each additional family member (valid only with purchase of one adult ticket); infants worn by adults are free. Available in advance.
Mother-Daughter Knitting
When: Saturday, April 5, 1-5pm
Where: Park Slope Library, 431 6th Avenue
What: Always wanted to share your love of knitting with your daughter? Mothers and daughters of all ages are welcome to enjoy an afternoon of the craft.
How much: Free!
Ready, Set, Kindergarten!
When: Sunday, April 6, 2:30pm
Where: Central Library, Youth Wing, 10 Grand Army Plaza
What: Families with kids ages 3-5 will enjoy stories and activities designed to encourage the development of early learning skills, helping you and your child get ready for school. Families will receive free materials to continue the learning and fun at home.
How much: Free!
Photo via First Second Books